If you read many blogs, you know that periodically,there will be a wave of award giving among bloggers. I think it is a sweet way to acknowledge other bloggers, as well as introduce them to new bloggers. I received all of the following awards either here or when blogging on MySpace: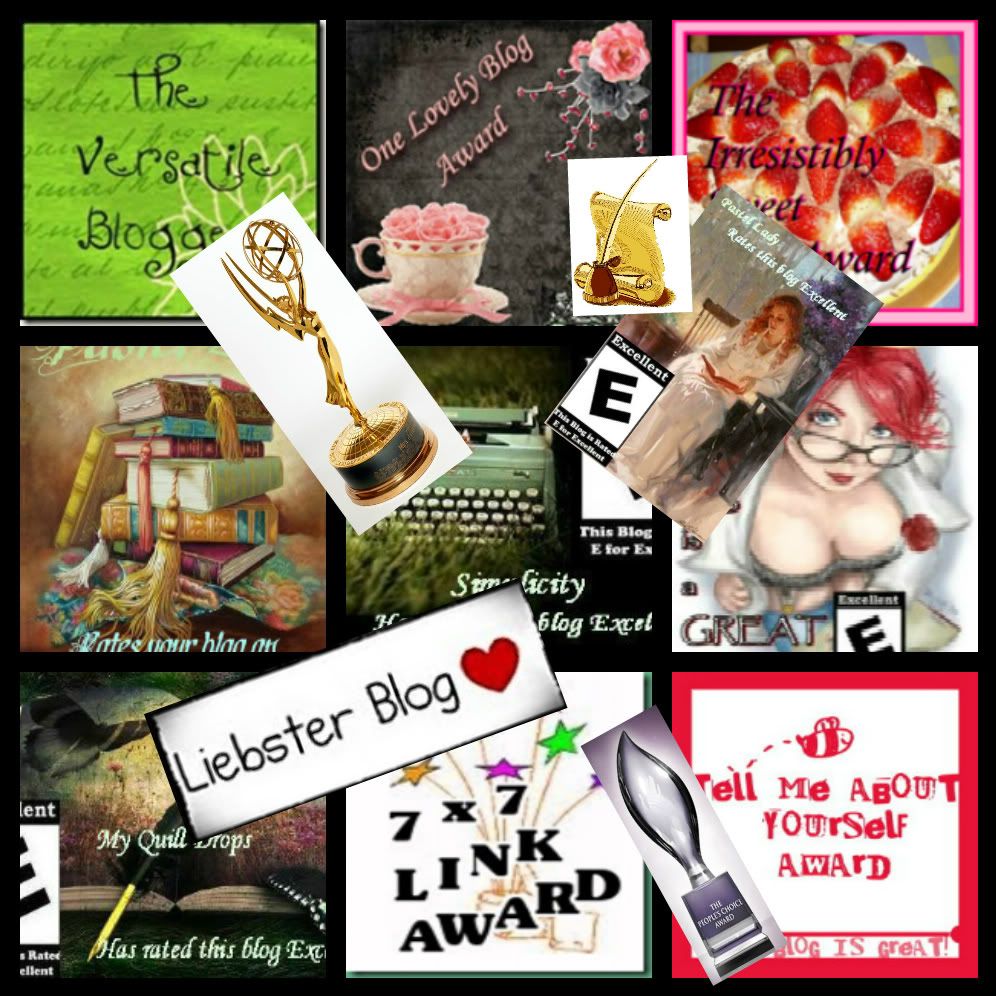 I felt all warm and fuzzy when I received each one of the awards. The only downside is that it comes with rules to tell some things about oneself, and then name new bloggers who will receive the award from you. Unfortunately for the rest of you, I am the weakest link…
1. I get stumped when trying to list 5 to 10 "interesting" things about me that nobody already knows. I'm such an open book that my friends already know all there is to know about me and people I don't know just don't need to know…
2. I try to think of some new and clever things to say, but my muse simply will not cooperate. Although I may have occasional "clever" moments, I cannot make them happen. When they happen, they just happen. It's no more than a brain fart…
3. My mind is best described as a whirlwind. The thinking just never stops. Like bad weather, one whirlwind will set off another whirlwind and then, before I know it, the original thought is lost while my muse pursues another line of thought. FYI – I've had some great ideas for short stories and blogs, but they also get lost in the whirlwind. I should make notes, but a whirlwind can move my mind in another direction while I'm reaching for pen and paper. I must be quick to capture thoughts before they get away! LOL
4. Lest I leave the impression that I am "dizzy", I just want to share that I worked for the State of Florida for 36 years. I held some really complicated jobs. At least twice, after receiving promotions, I learned that those who landed in my old position could not handle the demands of the position; therefore, the duties had to be distributed over more employees. The same thing happened after I retired – or so I'm told. My mind was a clear asset during my career years. In fact, that is probably where my mind learned to whirl and twirl and dance around. It is not a disability. It is a gift.
5. Nonetheless, if my muse is not cooperating, a blog with intent to …
a. Acknowledge/thank the giver for the award
b. List "getting to know you" type of facts
c. Naming new bloggers for the award
d. Posting the new blog
just never gets done….. That is all…
6. So…I break the chain. I do the same with chain email and most other chain type activities. On the social sites that I have been known to haunt, I do not repost photos of sick or missing children because some of those children are teens or young adults now…or a hoax. I'm pretty sure some big name company did not give a dollar for surgery for every time a child's photo was reposted. I do not forward every "cute" email because I'm pretty sure that everybody else has seen that same mail more than once, as I have too. I am not "ashamed" to not pass on the religious emails, nor do I believe that the Lord is "ashamed" of me. I detest mudslinging political messages. I have been blunt enough that most people know better than to send that junk to me and the ones who still do are only trying to get a reaction out of me. I give them none because it is clearly a waste of time. People who are going to hate are simply going to hate. I can't change that. But I can do my part by not spreading the malicious propaganda. Nope, I don't jump on that bandwagon… And you know all those petitions for this and that? I figure that the person who sent it to me and 49 other people will just have to rely on those other 49 people to keep it going. Yup…I'm the weakest link.
If I leave the impression that I am thoughtless and rude, well then…that is the impression I leave. I have often said that there is a party in my head and I like it there. This is a true statement. It is wonderfully fun in my head, so if something is not fun for me, I just jump right over it with little or no conscience. If that offends, just sue me….
So….all that said… I thank whoever bequeathed awards to me. I would thank you each by name, but I honestly forgot who all have given awards, so rather than name a few and miss a few, I choose to simply thank you all. You know who you are. I hope I thanked each of you on your blog. If I didn't, well then I just didn't see it…which is another of my character flaws, but that is a whole 'nother blog…
I miss MySpace. It was so easy to drop an award on someone without conditions. The unexpected award said… "I like and appreciate you and/or your blog." It was a delightful surprise to find an award in the blog comments. The award didn't come with conditions… I miss that.
Since it is apparent that I break all the rules, I think I will make my own award and new rules. Here's the award:
And here are MY rules:
1. If you like awards, please take this award if I have ever left a comment on one of your blogs that made you feel all warm and fuzzy. Or if you even think I did and it must have been deleted by the internet gremlins… DO take it and display it proudly. I'm sure I would have given it to you anyway.
2. You DO NOT have to share a single thing about yourself unless you want to.
3. I suggest NOTHING that should leave one with the impression that a reciprocal action is expected.
4. I name NO ONE but I do want to share some links to some great bloggers who I have found outside of my usual blogging circles. I enjoy these blogs. I may or may not have made my presence known to the blogger. I simply enjoy them… I hope you will too.
http://wheresthefunnyhere.blogspot.com/
http://studiohourglass.blogspot.com/
http://serviceunavailableerror503.blogspot.com/
http://madgemadigan.blogspot.com/
5. If you like finding new bloggers, I hope you will share some links too.
Don't be the weakest link! That is my title….